How to help our artists?

BY A MONETARY DONATION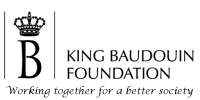 BY LOGISTICAL ASSISTANCE
> Preparation of a concert
> Media help
> Public relations
BY A DONATION IN KIND
> Musical instruments
> Music stands (wood/metal)
> Musical scores
> Evenig wear
BECOME GOODWILL AMBASSADOR
With European companies who wish to associate their success with a beautiful artistic cause, and benefit from tax advantages in their country.


OUR COMMITTMENT :
To keep you informed of the choice of young talents and the means implemented to help them. This by a quarterly mailing and a regular update of information on the future site.
To invite you to the musical events we will organize periodically to present our young musicians.
To offer you tax deductions for payments above 40 euros.
To offer visibility to donors (individuals or companies) by presenting their logo and a link to their site on the home page of our Fortuna Fund website.
THANK YOU
from the bottom of our heart for your generosity and BUONA FORTUNA to our young musicians!